50th Anniversary Exhibits
---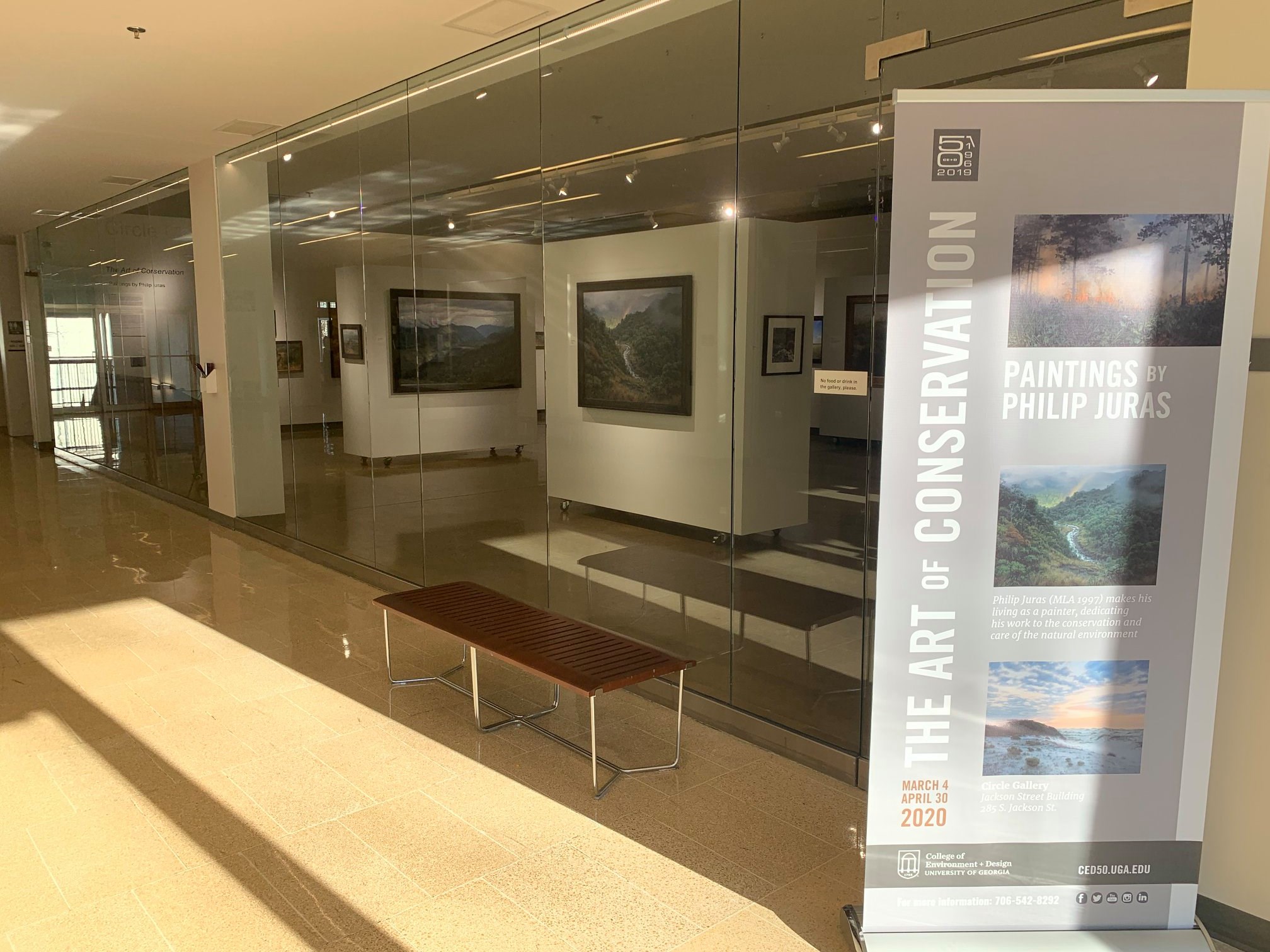 Philip Juras Exhibit Opening and Lecture
The Art of Conservation: Paintings by Philip Juras
The UGA College of Environment and Design (CED) is pleased to announce a lecture and Circle Gallery exhibit by one of its graduates, Athens artist Philip Juras, as part of its fiftieth anniversary celebration. Free and open to the public.
Lecture recording is available here
---
50th ANNIVERSARY EXHIBIT

---
Snapshots: 50 years at the College of Environment and Design
The Circle Gallery
1969 was the year of several beginnings, not the least of which was the School of Environmental Design at UGA. But it was also the year the Cuyahoga River in Cleveland OH caught on fire (massive pollution), Neil Armstrong walked on the moon, Ian McHarg published Design with Nature, and a certain music festival in upstate New York woke up the dairy cows at Yasgur's farm.
The 1960s in America had been a decade of upheaval, including three country-shattering assassinations—President John F. Kennedy, Dr. Martin Luther King, Jr., and Attorney General Robert Kennedy—along with the Vietnam War, the Stonewall uprising and civil rights and feminist activism all shaping the coming decade. What was the world coming to?
In this exhibit, we explored the historical context and the evolution of our college. It was not a conventional history, but rather a glimpse into the past decade by decade from 1969 to 2019, trying to identify trends, events, and people who might have shaped our story.
The exhibit had three components: a timeline, a wall of curiosities in the tradition of "wonder rooms" that harken back to 16th century Italy, and a rotating exhibit on the three moving walls that changed throughout the year. These components portrayed many of the hundreds of ideas our team came up with, but not all…
Where do you fit in this story? Read about the exhibit opening and view a photo gallery, then reach out, we'd love to hear back, so upload stories and memories hereand add to this interesting tale.
For more information contact the gallery director Melissa Tufts at mtufts@uga.edu or call 706-542-8292.